Ok, here is the final installment of my birth/pregnancy story. I was hoping to finish it in the month of May which is my son's birth month but evidently, I had too much to say. Well, either I had too much to say or I was just too verbose and stretched it out. Either way, this is the last installment. If you're just now finding my page and wish to catch up, here are the previous installments: part I, part II, part III, and part IV. By the way, this one is probably going to be a bit lengthy, as I am really trying to close it out, so please bear with me.
For the most part, my pregnancy went off without a hitch. I had the regular stuff like nausea but I couldn't throw up, acid reflux, heartburn, and cankles. At the end, I was just totally uncomfortable and absolutely miserable. I couldn't wait to have that baby out of me. Well, during my first visit to the OB-GYN told me that I was due on May 16th, which was a Monday. We all know that it's basically a guesstimation. The baby will come when the baby is ready to come but most people, like me, feel that is the actual date. 
Anyway, on Sunday afternoon, May 15th, my family came over. They were all excited because the one family member that was least likely to have a baby, was indeed having a baby. Everyone laughed and joked about my cankles and talked about how excited they were. My sister Robin, gave me a pedicure and massaged my feet in hopes that it would induce labor. It didn't but it felt good. That night I went to bed but couldn't sleep laying down, so I ended up sleeping sitting up on the couch. I went to work as usual on Monday and Tuesday. At one point, my direct manager asked me how long I would be working and I told him until I went into labor. 
Tuesday night I decided to watch the NBA playoffs. Don't ask me who was playing because I don't remember. I had to watch the game in the dark because my husband was asleep in bed and I didn't want to disturb him. Around 10:30 I started feeling these pains. Yes, they were contractions but goofy me thought I was just experiencing contractions from dehydration so I go up and got some water. Yes, I was already a day past my due date but evidently, that didn't click in my brain. Another thing that didn't make it click was that labor is not like they show you on tv. My contractions came hard and fast immediately. They would last about a minute, I would have a minute break and then they would start again. The only reason I know this is because I used one of my husband's watches to time them. All this was done in the dark with a flashlight. After I determined that I was indeed in labor, I decided to wake my husband up and have him time my contractions. We did attend a birthing class but I really don't think he paid much attention. He even forgot how to time contractions.
After we confirmed it he jumped up and starting trying to get ready. Me on the other hand, said, "Let's call the hospital first." In between contractions, I struggled to talk to the nurse and answer her questions. Since my water had not broken, the nurse thought it might be false labor, so she told me to take some Tylenol PM and soak in a warm bath to relax. I guess me being a day past my due date didn't matter to her either. Well, I don't know about you but I always go to the bathroom before I get in the tub and when I did I had what is commonly referred to as "bloody show". At that point, I promptly called the nurse back and she instructed us to head to the hospital. My usually calm husband was not his calm self. He was literally running around trying to help me get my things together so we could leave.
Believe it or not, we made it safely to the hospital and I didn't even cuss at him. It was really difficult to do, especially when he drove over speed bumps too fast but I was able to show restraint. You know, I find it particularly cruel that the hospital makes you walk to your room while you are in full-blown labor. At any rate, I am brought to my room and everyone who comes in I ask if they are there to give me my epidural. No such luck. One nurse does a pain assessment of me stating, "We have a pain scale from 0 to 10. Zero means no pain at all and ten means it feels like someone is cutting your legs off with a chainsaw." Me, not being one to be hyperbolic says, "I'm at an eight." She then tells me that she can believe that. 
Meanwhile, my husband is asking me to describe what the pain feels like. I don't think I've ever wanted to punch anyone in the face more than I wanted to punch my husband at the moment. In addition to this, the nurse had to force him to go get a soda because before anything even started he looked like he was going to pass out. By the way, before all of this started he had the audacity to ask if he even had to be in the room with me when I was giving birth. That type of question just got him a cold stare and an eye roll.
Finally, I get my epidural! Yay! The only problem was that I was still having very quick contractions and I knew one small move and I could be paralyzed. I prayed that I wouldn't have any contractions as I leaned over the pillow in my lap. Fortunately, no contractions. Then my husband says, "Wow, that was a really long needle." I'm sure it was. 
Anyone who has had an epidural knows that once it kicks in, you cannot, I repeat, cannot move your body from the waist down. So, why is it the nurse is telling me to scoot over to one side or the other? I felt like I had lead weights on my lower body. Just so you know, I didn't cuss anyone out nor did I say anything ugly to anyone. Even though I was in pain, I still had manners. 
By this point, my water still had not broken, so my doctor wanted me to do it. Oooooookay. Remember, I can't feel anything below my waist so I can't tell if I'm even pushing. When the next contraction came, the doctor says, "Push!" I pushed as hard as I could and the next thing you know, this huge gush of liquid comes gushing and douses the IV bag and stand, as the doctor and nurse jump back to avoid getting wet. At that point, I'm guessing that I was successful. Once that was done, it was time for the real work, or so we thought. The first real push I had to do caused me to resemble a water fountain. Who knew that urine flowed up like that when you're lying down? Well, that was me.  That's when they decided that I needed a catheter. After that, it was pretty much a waiting game. There was something blocking the baby's exit, so we had to be patient until it moved out of the way. To this day, I do not know what it was. 
After some time passed, (don't ask me because I really don't remember how long. It just seemed like forever which made me really glad that I had an epidural.) we started the process of having a baby. I'm lying on the bed, the doctor was at the foot of the bed primed to catch the baby, as the nurses stood around him. My husband was at the head of the bed looking a bit lost and nervous. The doctor offered to position the mirror so he can see the birth of his child but he quickly declined. I told him that all he had to do was look at my face and hold my hand, and that's exactly what he did. 
After several pushes, the baby was out and the doctor announced that we had a boy. My husband's reaction was this: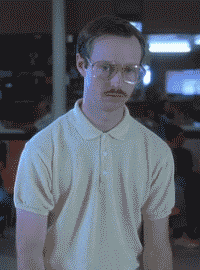 He didn't look as dorky but you get the picture. After they cleaned our new son up I told him he should go over and meet our son. The nurse gave the baby to my husband and he promptly came and sat next to me. This was the first baby my husband ever held. A nurse then took this picture after our son was maybe 10 or 15 minutes old. Look at the proud and happy look on his face.
Our son was born on May 18th at 4:54 a.m. The most ironic thing about the time of his birth is that neither my son nor I are morning people. He weighed 8lbs, 2oz, and was 21 inches long. Yeah, that was a big ole bun him my easy bake oven. That explains why I had the hardest time breathing during my pregnancy. Anyway, he turned out to be a very healthy child. Now he's hit the milestone of being 16 and I just don't know how I feel about that. Even though I was a reluctant mom, I'm glad that I chose to bring him into this world. Hopefully, he can help to make it a better place just by being in it.
"A new baby is like the beginning of all things-wonder, hope, a dream of possibilities." ~ Eda J. LaShan
Related